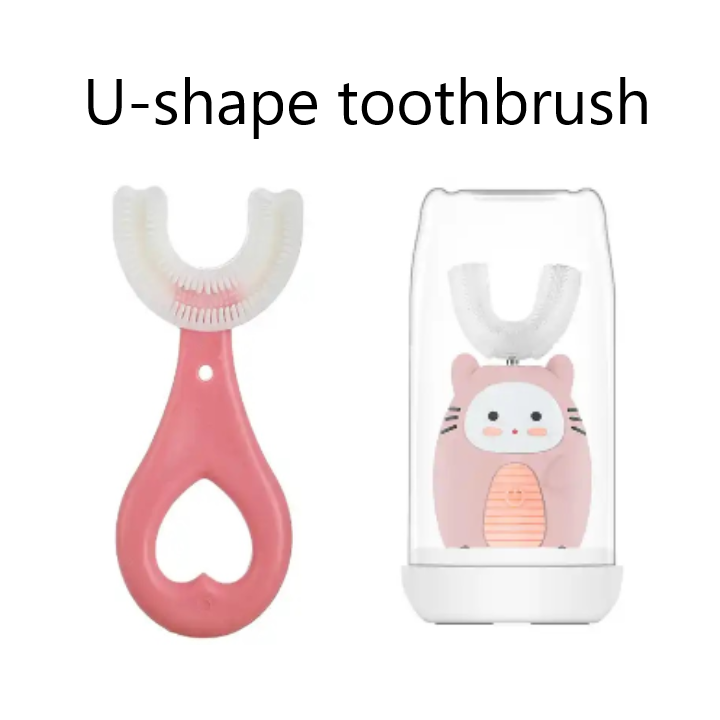 There are wide varieties of U-shaped toothbrushes in the market today. The recently launched U-shaped toothbrush comes with softer heads and silicone bristles on both sides that can easily reach hard-to-reach areas of your teeth simultaneously.
A U-shaped toothbrush differs from a usual or regular toothbrush because it provides a better contact area between the brush head and the tooth surface.
These U-shaped toothbrushes are new and unique in the market and can also be called Automatic toothbrushes, Mouthpiece toothbrushes, or 360 toothbrushes.
Who are U-Shaped Toothbrushes for?
The U-shaped toothbrush is for both kids and adults. You must maintain proper oral health hygiene as long as you have teeth. It is also popular among persons with disabilities.
U-shaped toothbrushes for kids
Apart from being effective in teeth cleaning and popular for kids between the ages of 3-12, kids' U-shaped toothbrush comes with fun designs and characters that kids enjoy most.
U-shaped toothbrushes for adults
U-shaped toothbrushes are not only for kids but for people of all ages.
With its motor ultrasonic of 5000-15,000 speed, it touches the teeth and gum lines and rotates 360 degrees in all directions to clean the teeth' surface effectively.
The ABS and Removable food-grade silicone, U-shaped toothbrush head covers the teeth firmly.
The adult U-shaped toothbrush has three powerful cleaning modes such as strong, gentle, and bright white.
It comes with a Compact and portable design, suitable for indoors and outdoors, like home, office, travel, camping, etc.
Types of U-shaped toothbrushes.
U-shaped toothbrushes are typically categorized in many ways, such as Manual and Electric U-shaped.
Usually, U-shaped toothbrushes are categorized by bristle type: silicone and nylon.
Both heads are directly placed on the teeth and moved in a circular motion or side by side to brush the teeth effectively.
Manual U-shaped Toothbrush
Manual U-shaped toothbrushes are commonly manufactured for kids as starter toothbrushes. It cleans in a circular motion or slightly from left to right and does not vibrate.
It is the best option for kids or adults that experience sensitivity to an electric toothbrush that vibrates.
Electric U-shaped Toothbrush
Unlike a manual U-shaped toothbrush, an electric one vibrates and cleans effectively.
Kids' electric U-shaped toothbrushes have fun animals or different characters to excite kids.
Electric U-shaped toothbrushes vary between manufacturers. Some come with three powerful modes and colors which can be customized.
Do U-shaped toothbrushes make kids lazy?
No, U-shaped toothbrushes do not make kids lazy. On the contrary, it helps kids and adults brush their teeth faster and touches every tooth surface. It saves time and allows kids to do another task rather than wasting time brushing.
Why you should brush your teeth with a U-shaped toothbrush.
1: The U-shaped toothbrush is simple and very effective.
2: It brushes faster than an ordinary toothbrush.
3: It helps the user not miss any tooth while brushing as it brushes all surface areas simultaneously. Every tooth must be brushed!
4: It quickly reaches hard-to-reach areas and gun lines safely.
What are the best U-shaped toothbrushes?
Ekong Smile U-shaped toothbrushes work very effectively. They are clinically proven to quickly, safely, and better remove dental plaque in both kids and adults. As a result, they are more highly recommended by dentists than regular or ordinary toothbrushes.
Ekong Smile, a trusted and globally recognized U-shaped toothbrush manufacturer, ensures that it manufactures for kids and adults.