Charcoal Teeth Whitening Powder
How the charcoal teeth whitening powder works?
The teeth whitening powder could work because it uses coconut activated charcoal to remove stains and neutralize odors. It's a natural way to clean your teeth and help keep your teeth and gums healthy. At the same time, peppermint freshens breath and fights plaque.
What can we support?
Support free custom labels, support and welcome OEM & ODM, print logo on the packaging, support custom instructions, flavor customization, powder color, user menu and so on.
Contact us to learn more and try it for free!
Description
More details of the charcoal teeth whitening powder.
The following is a detailed introduction about the charcoal teeth whitening powder:
| | |
| --- | --- |
| Item name | Charcoal teeth whitening powder |
| Color | Black(customized) |
| Specification | 30g/60g |
| Flavor | Mint(customized) |
| Active Ingredient | Coconut Activated Carbon |
| Usage | Daily use with toothbrush |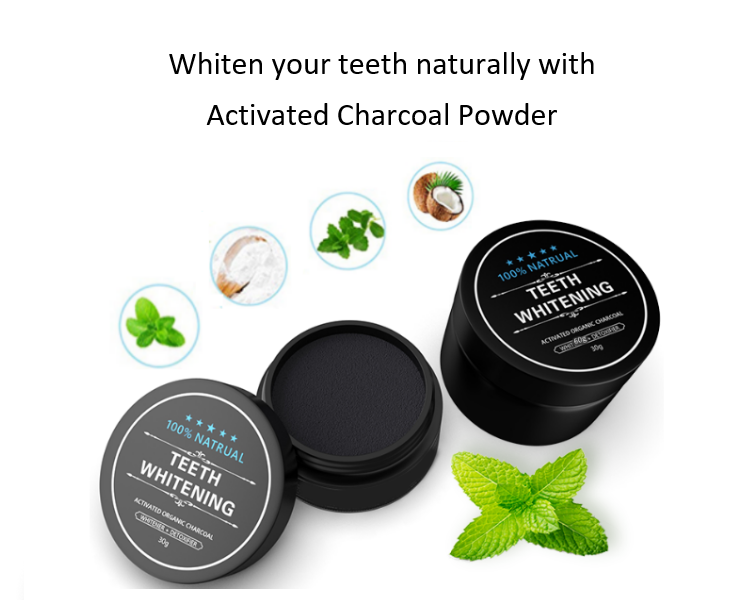 How to use the charcoal teeth whitening kit?
Wet toothbrush bristles and dip into the powder, a little goes a long way!
Gently brush teeth for two minutes.
Brush again with water to remove residue.
Enjoy your white teeth.