Sonic Electric Toothbrush
How the sonic electric toothbrush works?
The sonic electric toothbrush uses ultrasonic vibration with a vibration frequency of 38,000 times per minute to deeply clean the dead corners of the oral cavity. DuPont soft bristles are used to protect sensitive teeth without harming gums. The whole body is waterproof and easy to clean the machine, low noise. 2-minute cleaning cycle, 30-second zone-changing cleaning.
What can we support?
Support free custom labels, support and welcome OEM & ODM, print logo on the packaging, support custom instructions, user menu, color card and so on.
Contact us to learn more and try it for free!
Description
More details of the Sonic Electric Toothbrush.
The following is a detailed introduction about the sonic electric toothbrush:
Item name
Electric toothbrush
Model
EK-YS500
Bristles
Dupont
Frequency
38000 Vibrations /minute
Clean Modes
With 3 modes (Clean, White,  Gum Care)
Voltage
3.7V
Battery
800mA (Li-ion battery)
Auto-timer
2 mins (every 30 seconds reminding)
Charging time
10-12 hours/ time
Using
30 days of using (twice per day)
Waterproof
IPX7
Package
Color box (Customized)
1×Electric Toothbrush
2×Brush head
1×Charging holder
1×user menu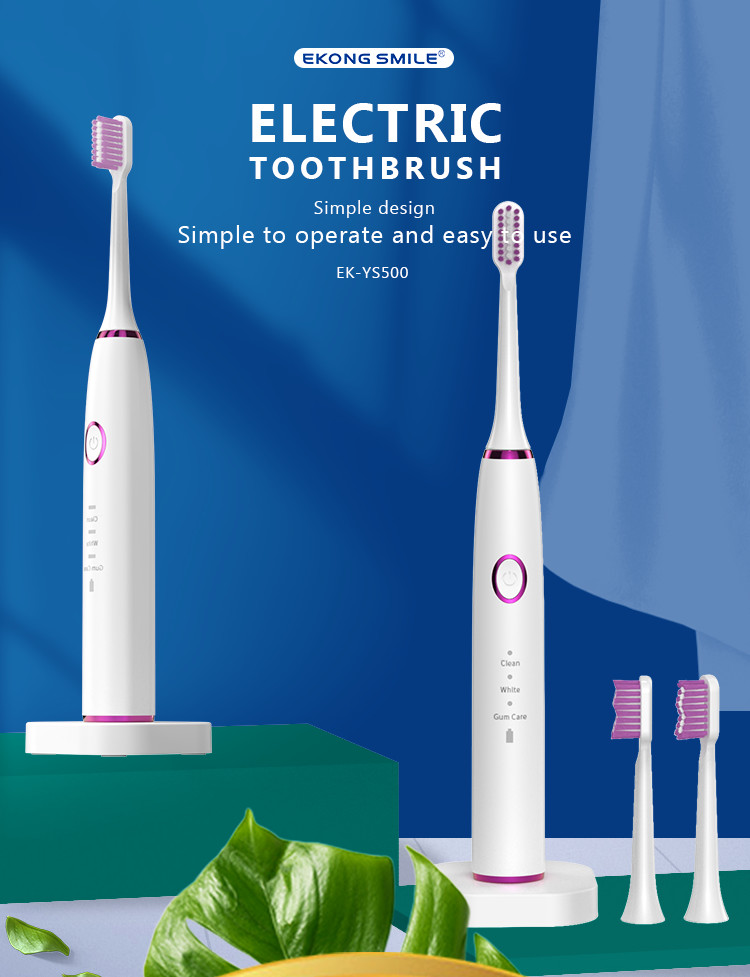 Why choose the sonic electric toothbrush?
High efficiency, suspension sonic wave motor
Three model teeth cleaning
Dupont bristles
Waterproof body wash
Wireless charging
Streamline toothbrush handle design