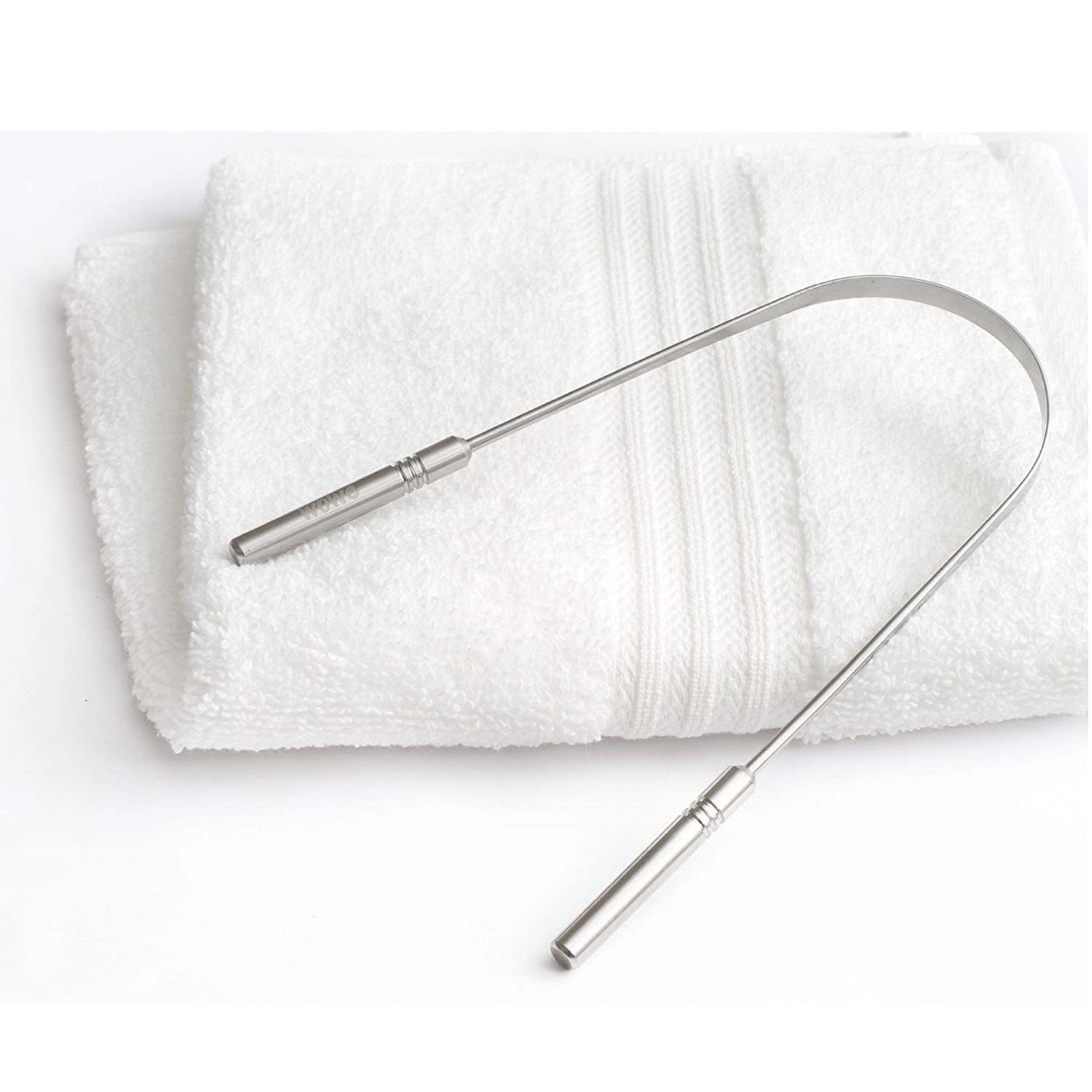 Just like Teeth brushing or flossing, Tongue brushing is of great importance and should not be neglected. According to dentists, toothbrushes are meant to brush your teeth, not your tongue. When it comes to tongue brushing or scraping, Dentists recommend the use of a tongue cleaner or tongue scraper over brushing your tongue with your toothbrush. This is because the tongue is uneven, always wet and harbours quite a bit of bacteria, yet it's often missed in many people's oral hygiene habits. You may ask, what is Tongue cleaner or tongue scraper?
A tongue scraper is an Oral care product specially designed for tongue scraping or cleaning as part of your oral hygiene habit. A tongue scraper is more effective at removing odour-causing bacteria from the tongue than using a toothbrush to brush the tongue.
Since the tongue harbours quite a bit of bacteria and can cause bad breath, everyone is urged to incorporate a tongue cleaner into their oral hygiene habits. Cleaning or Scraping your tongue after brushing your teeth can efficiently get rid of the odour-causing bacteria and save you from getting bad breath or halitosis.
Whether you are buying for personal use or as an Oral care product reseller, you may like to have some knowledge that will help you make the right choice of products to buy and resell to your customers. To get the best tongue scraper, you're to know the different types of tongue cleaners in the market, product customization, the pros and cons of the different types of tongue scrapers or the certified and trusted tongue cleaner manufacturer. This knowledge will make you comfortable selling to your customers.
Types of Tongue Scrapers.
1: Copper Tongue Scraper
Due to the wetness of the tongue, it is an enabling environment for odour-causing bacteria in the mouth. A copper tongue scraper is regarded as the best tongue scraper because it has antibacterial properties, therefore it is very effective in fighting bacteria and if well cared for, it can last for several years without damage in quality and effectiveness.
Copper is more effective in killing viruses, bacteria and yeast on contact than the stainless steel tongue cleaner, but some people may prefer stainless steel because of its affordable price over copper.
2: Stainless Steel Tongue Cleaners
Stainless Steel Tongue Scraper may not be the best when compared to copper type in killing bacteria but it is one of the best materials for tongue scraping as it does not harbour or get contaminated while not in use.
Stainless Steel tongue scrapers are the best, but some people may prefer the gentleness of plastic scrapers on the tongue and their affordability.
3: Plastic Tongue Scrapers
Apart from being gentler on the tongue which is a very soft organ, Plastic tongue scraper has more designs to choose from when compared to metal or stainless steel tongue cleaners. Making it a suitable material for everyone, especially for kids who would be more interested in cleaning their tongues when they see the different kinds of fun designs of plastic tongue cleaners.
Plastic tongue scrapers are the cheapest when compared to others but it harbours bacteria more even if you do take care of it, there will still be some degree of bacterial vulnerability.
Not only that it is likely to be contaminated by bacteria when not properly cleaned, but it is not also eco-friendly as they are not recyclable materials.
The best Tongue Scraper manufacturer
Ekong Smile Oral care products manufacturer has been the world leading manufacturer of all kinds of oral care products, such as teeth whitening, colour correctors, electric toothbrushes for kids and adults, water flossers, activated charcoal toothpaste and powder and tongue cleaners for thousands of brands worldwide for more than 10 years.
We are well known for our professional OEM & ODM service and support for business owners who buy from us. All our Oral care products are FDA and CE-certified so you can be sure that they are effective and safe for everyone to use.