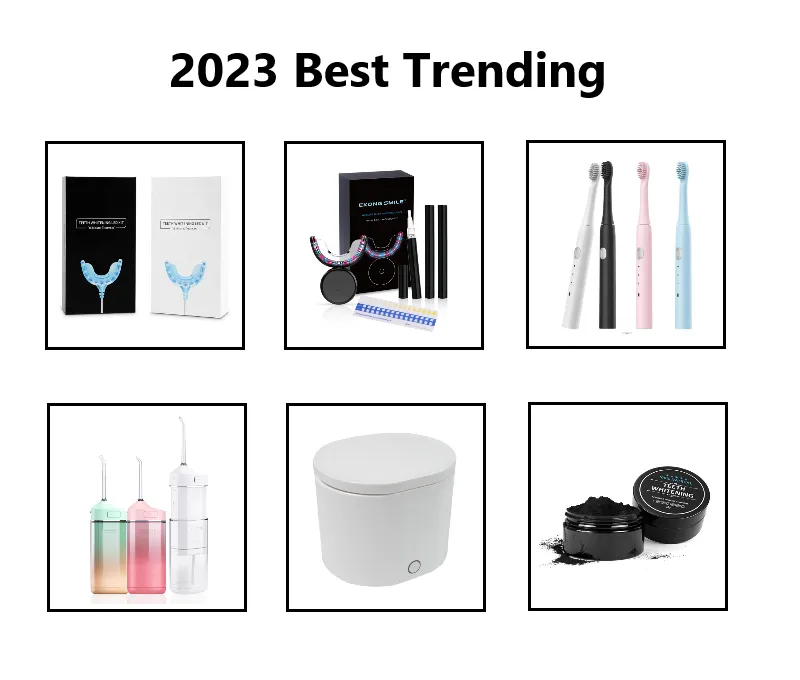 As the demand for dental care products increases, dental and oral care manufacturers move to create different kinds of dental care products, products that are always on trend.
If you have been planning to start a tooth whitening business or to expand your dental care business, it is very important to know the current dental care products on trend in the market. Getting the best dental care product on trend is essential for your business to thrive and make more money.
These are the 6 trending dental care products to watch for
1:Smartphone teeth whitening led light
This Stylish smartphone teeth whitening LED light is one of the most demanding dental care products in the world now, maybe because of its affordability and convenience.
Apart from that, It's also portable, simple, easy to use, and gives results instantly. All you have to do is to plug it into your smartphone (iPhone, Android) or USD port of your laptop/computer and use whitening gel for 10-15 minutes twice daily. It gives no sensitivity or shock on the teeth, but comes with a desensitizing gel in case you experience one. This smartphone teeth whitening led light is "Do it yourself" so, you do not need to visit a dental clinic or spa teeth whitening sessions.
2: Teeth whitening LED lights
Ekong Smile Teeth Whitening led light kits to save you both money, time, and energy and allow you to continuously re-whiten your teeth as needed without any sensitivity. As a dental care products distributor, you should know that a lot of teeth whitening led light kits in the market are too strong and cause your gums to become sensitive. So you need to look into this detail when buying teeth whitening led kits. It gives instant results just by applying the teeth whitener on the mouth tray for 30-minutes per day to remove stains from coffee, soda, wine, smoking, and sugary foods.
3: Electric toothbrush
An electric toothbrush is a dental care product that's already on a trend just like a teeth whitening kit. Research showed that an electric toothbrush cleans gums and teeth more proper than a manual toothbrush and those who use electric toothbrushes have the least tooth cavities and healthier gums than those who use Manual toothbrushes.
When it comes to children, adults, people with disabilities, and people who have arthritis or other factors that make it so hard to brush well, Electric toothbrushes are always highly recommended.
4: Water flosser
EkongSmile Water Flosser is a dental care product that massages and cleans below the gum line. It uses water enriched with microbubbles of air to help remove leftover food and plaque from teeth and gums.
It's for everyone, especially for patients with braces and implants. It helps to properly remove plaque and food particles that may have been trapped between wires, brackets and implant surroundings.
5: Ultrasonic teeth cleaner
This is a high-frequency vibration scale that doesn't vibrate nor does it produce sound during use, but removes teeth stains, plaque, and dental calculus properly. Very easy to use and can be used at home by anyone without the help of a dentist.
6: Natural Activated Charcoal teeth whitening powder
This is another trending dental care product made with no additives or preservatives. It removes stains and discoloration from the surfaces of your teeth to whiten and brighten your smile. Very easy to use, just put a sprinkle of Activated charcoal teeth whitening powder in the palm of your hand and dip a wet toothbrush into the powder.
Like every other toothpaste, use twice daily for 2 minutes ( After dinner and after breakfast) Brush your teeth for at least two minutes, then rinse.
Conclusion
Nowadays, Dental care product manufacturers are doing amazing jobs. You need to consider the trends of smartphone teeth whitening kits, water flossers, and ultrasonic scalers to introduce them to your target market.
Ekong Smile has been in the dental and Oral care products business for more than 7 years, providing reasonable information to global sellers and distributors.